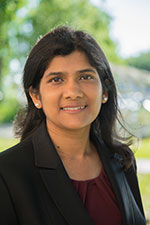 Dr. Yashashree Kulkarni
Bill D. Cook Associate Professor of Mechanical Engineering
Director Research Computing
Yashashree Kulkarni is an Associate Professor in the Department of Mechanical Engineering at University of Houston. She received her Bachelor's degree from Indian Institute of Technology Bombay, India, and her Ph.D. in Applied Mechanics from Caltech. She was a postdoctoral scholar at University of California San Diego before joining the University of Houston as an Assistant Professor in 2009. Her research interests focus on large-scale atomistic simulations and multi-scale modeling of material response. Selected research topics in her group include modeling nanostructured materials for novel structural applications, statistical mechanics of interfaces, and time scaling approaches in atomistic simulations. She has been the recipient of the DARPA Young Faculty Award (2010), the W.T. Kittinger Teaching Excellence Award by Cullen College of Engineering (2016), and the ASME Sia Nemat-Nasser Early Career Award (2017). She is also an Associate Editor of the ASME Journal of Applied Mechanics.